Brown Brothers King Valley Balloon Flight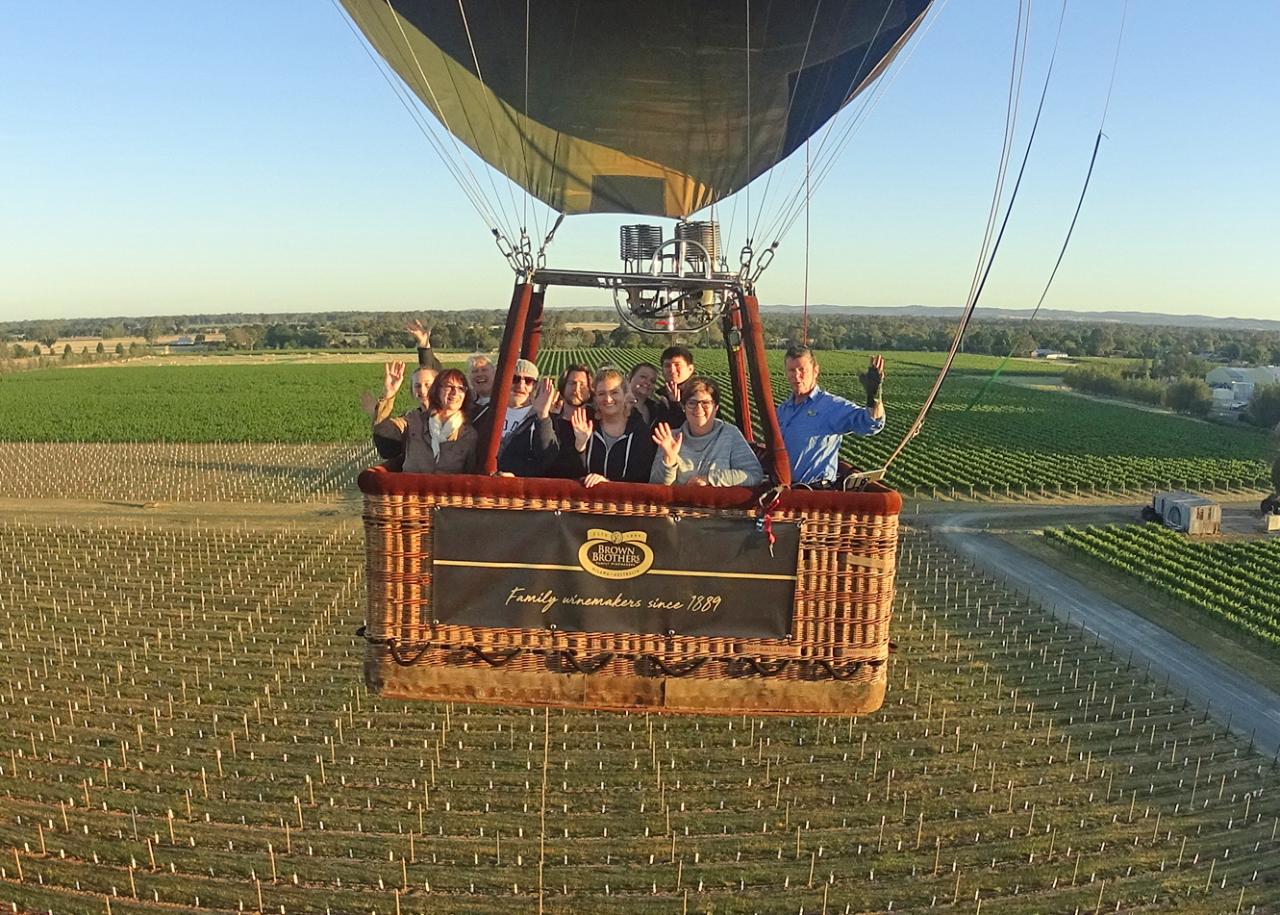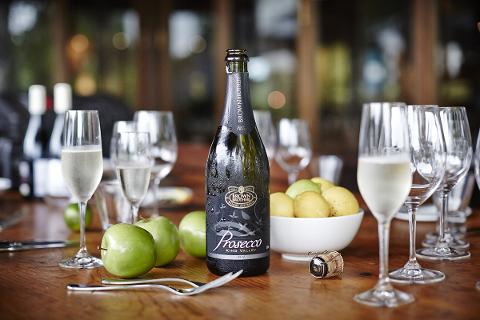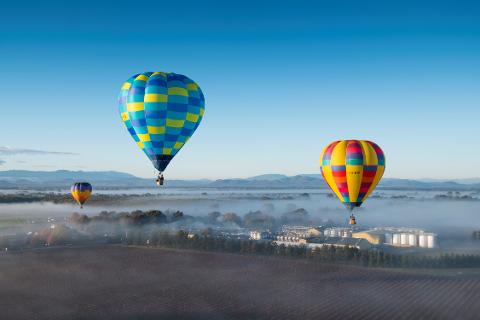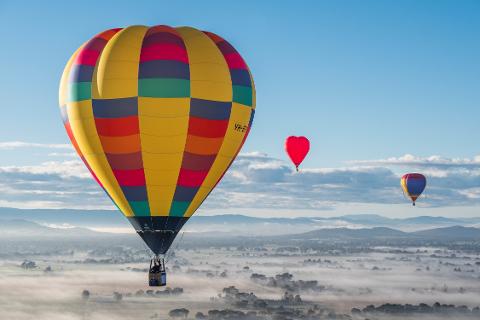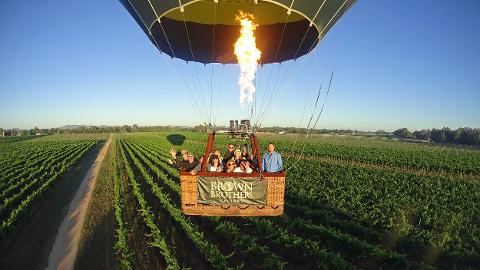 Durata: 4 Ore (aprox.)
Locatie: Milawa, VIC
Cod produs: KVBFAD BB
A beautiful balloon flight in the King Valley, one of Australia's top three wine and ballooning valleys and our most popular experience
The picturesque King Valley offers fantastic ballooning and Goldrush Ballooning is delighted to partner with Brown Brothers Milawa Vineyard to create the perfect gourmet ballooning experience.
Take in the beautiful King Valley and surrounds in your balloon at dawn. From the vineyards and patchwork of fields, the views expand to the King and Ovens Rivers, spectacular Mt Buffalo, and the High Country beyond. Get a real sense of this spirited wine region from aloft and the enormous potential of the region to produce European wine varietals and gourmet produce. Complete the experience with a Prosecco breakfast back at Brown Brothers.
Schedule and Flight
We meet at Brown Brother Historic Barn approximately 30 minutes before first light to allow us to fly in the perfect conditions around sunrise. Our expert crew will provide you with informative details throughout.
After a short drive to the launch field, it takes about thirty minutes to inflate your balloon. You are welcome to be involved in the inflation, and later the deflation process if you wish. Once the balloon is ready you'll be invited to climb aboard. You will receive a full passenger safety briefing before take-off and the flight is safe, friendly, and professional. The ground crew follows and meets the balloon at its landing. After deflation and a quick pack-up, your crew will drive you back to Brown Brothers. The flight is for an hour and the complete activity lasts between 3 and 4 hours, and is suitable for ages 7 to 97.
What will you see?
Flights usually begin at Brown Brothers Milawa Airfield allowing us to view the beautiful grounds surrounding the winery before we fly across the vineyard. The King and Ovens valleys provide early morning southerly and easterly katabatic winds which often allow our pilots to navigate past the Oxley Flour Mill (built in 1868) then fly overhead Oxley and the King River. From there we climb into the prevailing wind with great views of Mount Buffalo to the east, the King Valley to the south, and the Warby Range to the west. Occasionally we vary our take-off location if prudent due to the prevailing wind direction on your morning, for example in fresh southerly conditions we might launch from Moyhu flying back towards Milawa.
Breakfast
We celebrate your flight with a delicious Prosecco breakfast at Brown Brothers on Saturdays and Sundays, and King River Café on weekdays. Breakfast includes a glass of crisp Brown Brothers Prosecco, bacon and eggs, juice, fresh fruit, bakery goods, and your choice of tea or coffee. You are hosted by your crew and it is a wonderful finish to the morning. Non-flying family and friends are also welcome to join you for breakfast.
The Goldrush Ballooning King Valley Flight Experience includes:
o Easy parking at Brown Brothers Milawa Vineyard
o Transfers in our 4WD to the launch site, and return from the landing
o A full passenger safety briefing before take-off
o Spectacular one hour** sunrise balloon flight across the King Valley
o In-flight photography during the flight, to prove you were there!
o Hosting by our expert team who keep you informed throughout
o Delicious Prosecco breakfast at Brown Brothers* - optional and highly recommended.
Getting to Milawa
From Melbourne: Milawa is a 2 hour 25 minute drive northbound on the M31 Hume Highway from the Metropolitan Ring Road in Melbourne. Take the left exit just after the Glenrowan BP Service Centre (approximately 2hours drive from the beginning of the Hume Highway) and turn right onto the Snow Road / C522 which takes you to Milawa.
From northeast Victoria and Albury: Milawa is conveniently located less than an hour's drive from most places in Victoria's northeast and Albury / Wodonga in NSW.
Accommodation
For great accommodation in Milawa just a short walk away we highly recommend Milawa Motel, with delightful rooms set amongst 4 acres of beautiful gardens. We are also pleased to provide contact details of other local accommodation establishments here.
Meeting Details
The meeting time varies with the sunrise time throughout the year and is usually around 30 minutes before first light. On the morning of your flight, we meet at the Historic Barn, Brown Brothers Milawa Vineyard, 239 Milawa-Bobinawarrah Road, Milawa, Victoria 3678. Your Duty Pilot will call between 6 - 7 pm the night before to confirm arrangements for the morning. All these details will be sent to you in your flight booking confirmation email.
Price per Guest
Adult: $385 Child: $365 (7 to 12 years old)
Breakfast: $30 for flying guests, and $30 for non-flying guests
Payment accepted by Bank Transfer, Visa, or Mastercard. Credit card payment attracts 1% surcharge
This experience can be purchased as an open-dated Gift Certificate valid for 3 years.
Flight Availability and Minimum Numbers
Goldrush operates 7 days a week. A minimum of 4 guests is required to confirm the King Valley Balloon Flight on your chosen date. If there are less than 4 guests booked we will advise you and provide options to get you airborne.
We also offer Boutique Exclusive Flights for one guest and up, where it is just you and your partner or group onboard.
* We breakfast at Brown Brothers on Saturdays and Sundays, and King River Café on weekdays
** Times may vary slightly due to conditions.