Gift Certificate for Mansfield Balloon Flight including Breakfast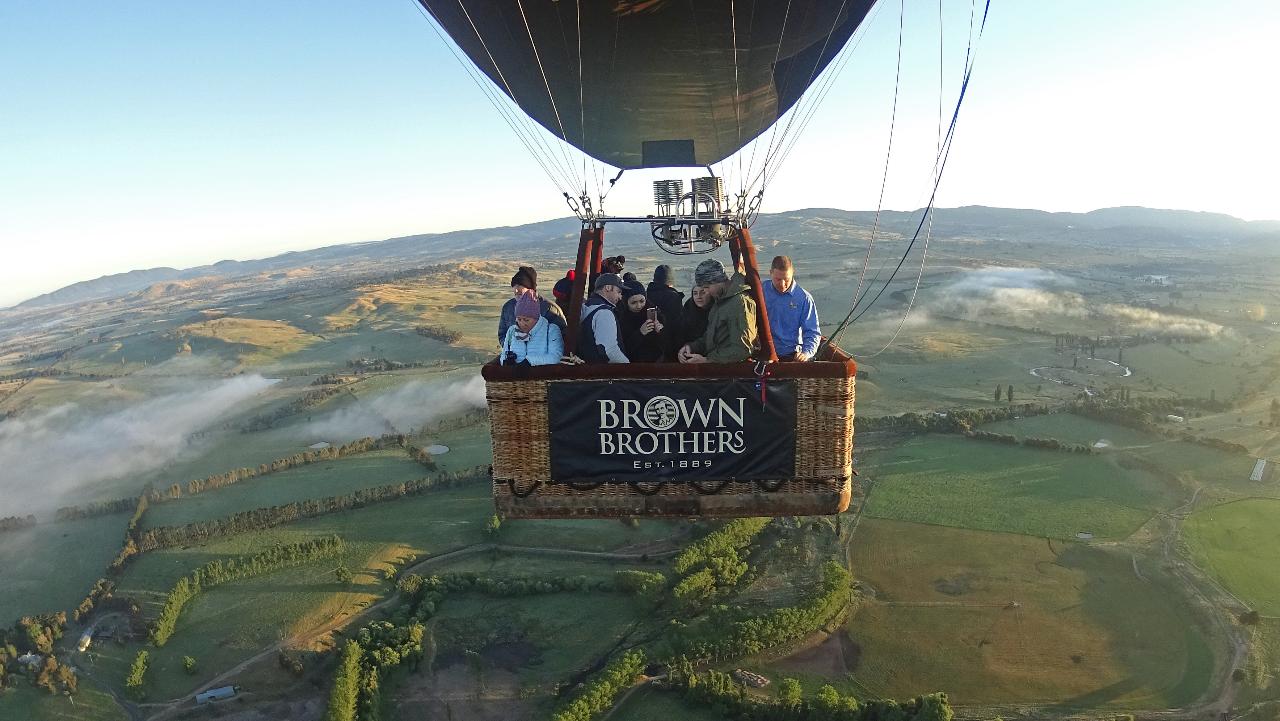 Duration: 4 Hours (approx.)
Location: Mansfield, VIC
Product code: GVMBAD
Gift Certificate for Victoria's best value Balloon Flight*

A Gift Certificate of a hot-air balloon flight and breakfast for a loved one, family member or friend.
Purchase with confidence from Goldrush Ballooning. Your Gift Certificate is delivered quickly by email and is valid for 12 months after the date of purchase. It is transferable, upgradeable and can be extended - for details please see our Terms and Conditions - https://www.goldrushballooning.com.au/terms-conditions/
A Spectacular Balloon Flight in Mansfield - See the High Country !

Live the romance and adventure of a hot-air balloon flight in the Victorian High Country over the Mansfield district at dawn, and experience a glorious sense of freedom. The mountain views once aloft, come to life in dramatic 3D with the early morning light.
Mansfield is nestled in the foothills of the Great Dividing Range, an area well-known for its stunning scenery. You can expect to see across to Mt Buller and down to reaches of Lake Eildon from the air.
We meet before first light to allow us to fly in the perfect conditions around sunrise. Our expert Mansfield based crew will provide you with informative details throughout, and invite you to be involved in the inflation and deflation process if you wish.
There is a short drive to the launch field, where it takes about thirty minutes to inflate your balloon, and once ready you'll be invited to climb aboard. We give a full passenger safety briefing before take-off and the experience is safe, friendly and professional. The ground crew follows and meets the balloon at it's landing. At the landing, the balloon is quickly packed, and your crew will drive you back to the meeting point in Mansfield.

After the flight we top off the experience with a delicious breakfast back at Mansfield Coffee Merchant, a local institution up with the best cafes Melbourne has to offer. There is nothing quite like sharing the experience over a hot breakfast after the flight.

The complete activity lasts between 3 and 4 hours and is suitable for ages 7 to 97.
The Mansfield Balloon Flight experience includes:
o Easy parking at our meeting point in Mansfield
o Transfers in our 4WD Sprinter to the launch site, and return from the landing
o A full passenger safety briefing before take-off
o Spectacular one hour** sunrise balloon flight across the Victorian High Country
o In-flight photography during the flight, to prove you were there!
o Hosting by our expert team who keep you informed throughout
o Delicious breakfast at Mansfield Coffee Merchant.
Meeting Details
On the morning of your flight, we meet at Mansfield Coffee Merchant, 23 Highett Street, Mansfield, Victoria 3722, just up from the Delatite Hotel. The meeting time varies with the sunrise time and is usually around 45 minutes before first light. We also require you to call our Duty Pilot the night before your flight to confirm final arrangements. All these details will be sent to you in your Flight Booking confirmation email, which comes at the same time in a separate email to your Gift Certificate.
Price per Gift Certificate
$365
Payment accepted by Bank Transfer, Visa or Mastercard. Credit card payment attracts 1% surcharge

This Flight Gift Certificate includes Breakfast.
If you have a non-flying companion who wishes to join you for breakfast, the cost is $30.
You can also purchase a Gift Certificate that does not include breakfast - just look for the product "Gift Certificate for Mansfield Balloon Flight ".
* Victoria's best value balloon flight when purchased online using the Promo Code. For details see - https://www.goldrushballooning.com.au/use-a-promo-code. We haven't found a better value balloon flight in Victoria, however, if you think you have please let us know !
** Times may vary slightly due to conditions.